GUIDE SERVICE
Fishing Guide Service in Oneida and Vilas County
At Smity Bait and Guide Service, we provide rods, reels, tackle, life jackets, and a camera – everything you need. Families and large groups are more than welcome – we have several expert guides on staff help with big groups. 
During the months of MAY-AUGUST our guides book trips for Panfish, Bass, Walleye, Nothern Pike, Musky. 
During the months of SEPTEMBER-NOVEMBER our guides only book trips for MUSKY.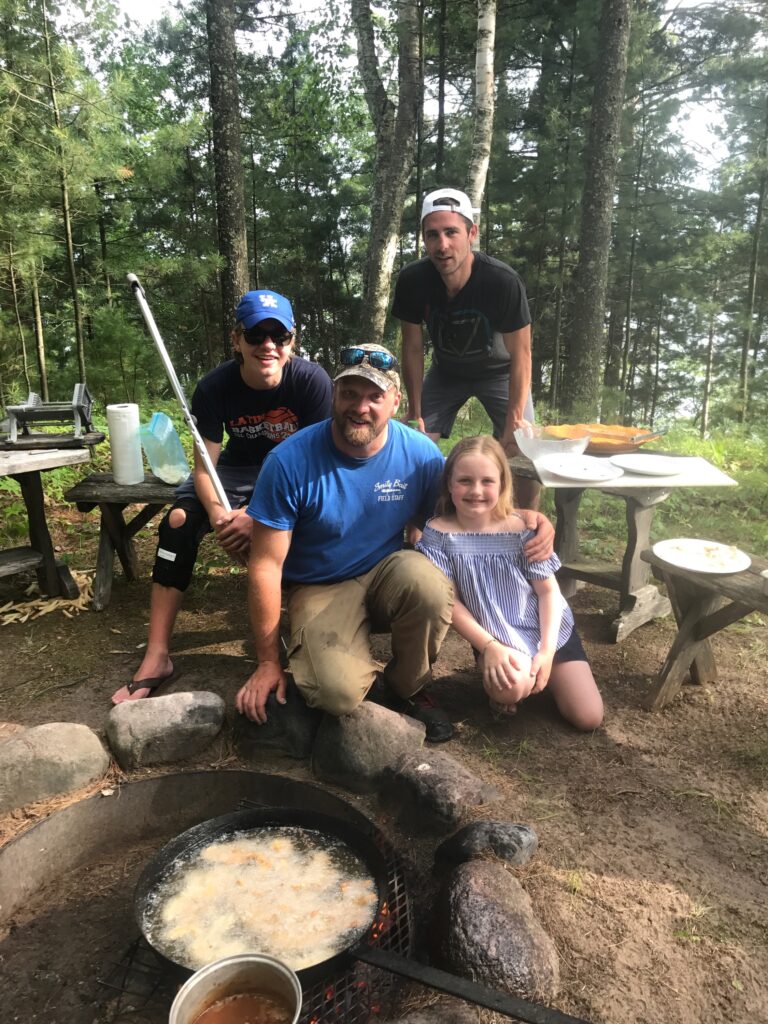 DON'T FORGET TO ADD ON A SHORE LUNCH
If you want to make your fishing trip into a real Northwoods adventure, we offer a shore lunch option. We will cook your catch of the day over a campfire, complete with traditional fish fry sides. Advance notice is needed and cost varies based on number of people. Ask your guide about a shore lunch adventure today! 
PS. Make sure to ask Jake about his secret shore lunch donuts!
HOW TO BOOK A TRIP
The best way to book a trip with one of our guides is to call or text the numbers listed below. Our guides are on the water from sun up to sun down during open season so please be patient with them as they try to get back to you. Please feel free to leave a voicemail or send a text message with your information, the dates you are looking for, and what species you are interested in fishing for. Our guides can also be reached via e-mail at jake@smitybait.com. Thank you!
Russ Smith: 715-892-5999
Jake Smith: 715-614-5381
RUSS "SMITY" SMITH

Russ Smith is the founder and co-owner of Smity Baity and Guide Service in Minocqua, Wisconsin. Russ is also a Fresh Water Fishing Hall of Fame Guide.




For more than 44 years, Russ has been fishing the waters of Oneida and Vilas counties and has helped hundreds of fishermen hook that special Musky, Walleye, Northern Pike, or Bass. Russ has even had the honor of helping Tom Peterson get his name in the record books (3 World Line Class Records for muskies on a fly). 




It doesn't make a difference if you're a beginner, weekend warrior, or world champion; Russ makes it his goal to provide every client with the gear, guidance, and good company they need to have fun and, more of than not, catch something to impress the friends back home.







Rates Available For:

2 people

Full day

Half day

Extra per person

JAKE SMITH

Jake is co-owner of Smity Bait and Guide Service. For over 20 years, Jake Smith, has been guiding fishermen to some of the best spots for Musky, Northern Pike, Walleye, Largemouth Bass, Smallmouth Bass and Bluegills in Wisconsin's Oneida, Vilas, and Price counties. 




As a full-time guide, Jake has plenty of techniques and tricks to help make your day on the water that much better. Whether you're a veteran out to hook that "fish of a a lifetime" or just starting out Jake is your guy. Jake loves to teach first timers, especially kids, and while he can't guarantee a trophy to every beginner, he can at least guarantee that they will learn a lot of new techniques and have a great day on the water. 




Families and large groups are not a problem, Smity Bait and Guide Service has several expert guides to help with big outings. We will take any size group, any time of the year. 


Rates Available For:

2 People

Full day

Half day

Extra per person